Advanced Kids Yoga Teacher Training Course

Become an accredited Kids Yoga Teacher today! Whether you're a qualified yoga teacher, a classroom educator or a passionate parent wanting to share the amazing benefits of yoga with your children… this training is for you!
The demand for Kids Yoga Teachers has significantly increased over the years as Kids Yoga has become more and more popular in the West. This course will certify you to teach at schools, studios, gyms, parks, daycare, kindys and kids parties or start your own Kids Yoga Business.
Our Advanced Kids Yoga Teacher Training course includes all the components needed to teach a holistic Kids and Teens yoga class. The course covers different teaching methods for the many areas of yoga specifically for different age groups, such as pranayama, yamas and niyamas, mindfulness and meditation to name a few, including emotional and social development.
With over 20 years in the yoga industry, we found that yoga for children has become overstimulating, loud and gamesy with the essence of yoga philosophy becoming diluted, so we created our own, unique method. What sets us apart from various other courses is we have carefully interweaved the essence of yogic philosophy for kids in a way that allows children to blossom and flourish in a natural and freeing environment, that it is not just fun and gamesy. We teach you how (and why) to steer away from relying on bright, 'loud' props or toys; instead the importance of coming back to our natural, true nature in sparking our children's imaginations, teaching them to learn to trust their inner wisdom, feeling empowered and believing in themselves through gentle play and mindful activities, even from the age of 2! The course includes real-life guidance that you can offer children to apply at home, such as yoga techniques to help children sleep, calm and focus before an exam, increase energy and motivation before a race and lots more.
The course includes a thorough Teachers Toolkit with an asana directory, class plans, music lists and lyrics, games, mindfulness, pranayama and meditation activities, guided meditation scripts and videos for each age-group, as well as business templates so you can start teaching straight away.
Pre-requisite: Level 1 Yoga Teacher Training (in-person or online) with My Health Yoga or another accredited yoga school. Please contact us if you have not completed level 1, yet want to join the Kids Yoga Teacher training.
If you have any questions, please reach out to training@myhealthyoga.com
PAYMENT PLANS
$258 non-refundable deposit, plus $258/month for 4 months  (Total $1290)
OR
$1200 When paid in full (save $90)
 INCLUDES:
6 Workshops in-person
6 Comprehensive Module Notes
An extensive Teachers eToolkit for each age-group: Including images and videos of asana, games, songs, activities, crafts, breathwork activities, meditation and mindfulness activities.
Encouraging phrases for kids
Business toolkit templates
Pre-made class plans and guided meditation scrips
6 months free access to My Health Yoga TV
Discounted masterclasses and classes 
Class Log: Trainees are required to participate in 30 hours of Kids Yoga classes.  These hours may be logged at our Brisbane or Broadbeach studios or online at My Health Yoga TV.
A kids yoga masterclass will also be available for you to attend which counts for 2 hours.
Trainees are eligible for $15 classes or $30 masterclasses for 6 months from date of application.
NB. If you are on a payment plan, the first month's payment acts as a deposit and is non-refundable should you need to cancel your training prior to workshop 1.  Once you attend your first workshop a $300 cancellation fee will apply if you need to exit from the course to cover our administration fees and loss of income for your vacated spot in the course.  If you have paid in full and need to exit from the course, pro-rata refunds apply minus the $300 cancellation fee.  
For enquiries please contact:
Email: training@myhealthyoga.com
Telephone: 0402 838 545
To be a registered Children's Yoga Teacher (R-CYT) through Yoga Alliance, you are required to complete 95 hours of kids yoga training with a registered yoga school – this course meets those requirements as a 100 hour Kids Yoga Teacher Training Course.
Pre-requisite: You don't need to be a yoga teacher to complete this course. However if you would like to become an accredited Kids Yoga Teacher, you will need a Level 1, 350 hour Yoga Teacher Certificate.
Students without a Level 1 certificate may wish to do this course to deepen their knowledge and skillset of yoga for children. or incorporate yoga techniques and mindfulness in the school classroom – you can still enroll and benefit from this comprehensive training. You will be issued a 'Certificate of Participation' which can be used as proof of training if later you become a qualified yoga teacher or for credit points with any yoga association or fitness association.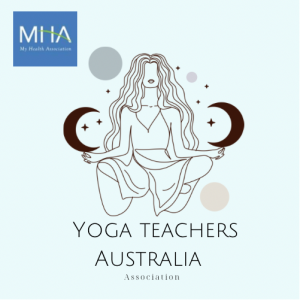 The My Health Yoga Advanced Kids Yoga Teacher Training course is recognised with MHA for 100 credit points.
Visit MHA website at www.myhealthassociation.com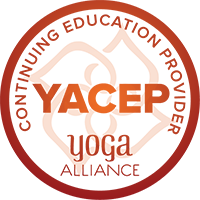 Continuous Education Provider
The My Health Yoga Advanced Kids Yoga Teacher Training course is a 100 hour recognised course with Yoga Alliance.
Visit Yoga Alliance website at: www.yogaalliance.org
ADVANCED KIDS YOGA TEACHER TRAINING COURSE OUTLINE
6 workshops run from 11.30am – 4pm on select dates
Please see module topics and dates below – be sure to select your location (ie Brisbane or Gold Coast)
Workshops are from 11:30am-4pm.
Students are asked to bring:
Yoga Mat (or use ours)
Pen and Paper
Light snacks
Comfortable clothing to do Yoga in
Open mind
This is a part-time yoga course that can be completed with a full-time job.
In addition to the 6 modules students will need to complete 3 assignments, 6 questionnaires and 30 Yoga classes. Classes need to be completed as Kids, Hatha or Meditation in style and 50% of these classes must be with MHY (online classes included) or affiliated studios.
Where modules are missed they can be made up with another group at any location or online. For in-person enrolments, students will receive 1 complimentary module online (ie due to illness or another event), with additional modules at a discounted fee of $100 each (valued at $215).
FLEXIBLE ENROLMENT OPTIONS:
IN-PERSON: Attend all 6 modules in-person
HYBRID: 3 modules in-person and 3 modules online
ONLINE: Complete all modules online at-your-own-pace (to enroll online, click HERE)